Hello again! Well, I finished up my new set of Hello Darling patterns a few weeks ago, and although you have probably seen them on Instagram, Facebook, or in my shop, I still wanted to introduce them here. Every pattern I've ever designed has been introduced here, so I should keep that up, don't you think?
I have 6 new patterns this time around, 4 quilts and 2 mini quilts. First up is Lollies!
Lollies is a layer cake pattern, and is a really fun and easy quilt to piece. I named it Lollies because when I was in Australia last year teaching I loved that they called their candy or treats "lollies." 
When I made this quilt it looked like little candies to me, so Lollies it is. It is a great lap size quilt- 64" x 74" and the stars in the border might be my favorite part. My friend Abby Latimer quilted it in swirls and did a wonderful job! Thanks Abby!
Next up is Vintage Tulips.
I have always loved flower quilts and have made many, but when I saw a vintage quilt a few months ago with the most darling tulips, I decided I had to make one of my own. It was made on point and was a lot trickier to piece, but mine is simplified, strip pieced and made from Jelly Roll strips. 
Abby quilted this one too in one of my favorite long arm loop patterns. It measures 64" x 80" and I just realized I really need to get more pictures of it! 
So after I finished all of the new quilts I had everyone vote on Instagram which ones should be made into mini patterns. Well, the clear favorite was a Vintage Tulips mini, and boy am I glad you picked this one because, well, this is my favorite mini yet.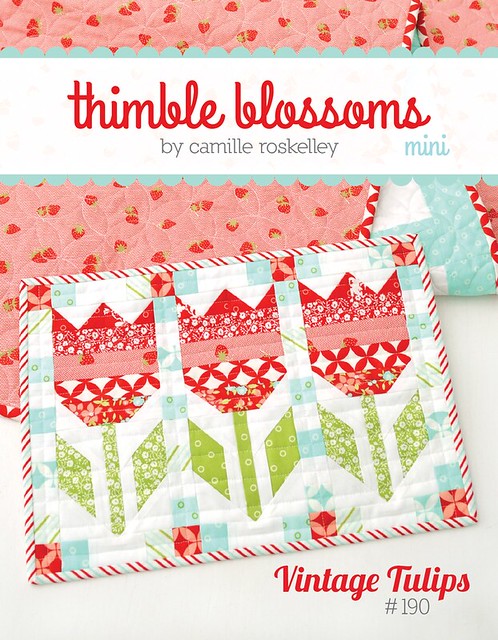 It's a little one, at 11" x 16" and is made from a charm pack, a fat quarter of backing and a little bit of binding. Here it is on my mini wall- I'll get to that other new mini here in a just a minute. :-)
This one is probably my favorite of the bunch this time, partly because I had so much fun piecing it, and partly because I love any quilt that is made of two lines mixed together. This is made from two Jelly Rolls, one Hello Darling and one Daysail. I LOVE them together!
It is a pieced dresden quilt (you know how much I love dresdens) so there are no y seams or anything difficult to piece, and since it is strip pieced it comes together really easily. It measures 75" x 75". I absolutely loved piecing this one, and love the custom quilting that Nicole Christoffersen did on it just as much! Thanks Nicole!
The binding is my favorite stripe from April Showers. I hadn't planned to use it, and had a scrappy binding already made, but then I couldn't help it. It was too perfect!
But don't worry, I used the scrappy binding on this mini version of Piccadilly Circus instead:
It was meant to be. This came in second in the vote, and is a charm pack pattern too, but would be perfect out of any scraps or leftover precuts. It is 12.5" finished, and the cutest little thing. 
And last but not least, after being asked many (!) times for a mid size Swoon, I am so excited to introduce you to Swoon Sixteen. 
It is a 74" quilt and is made up of sixteen 16" blocks made from sixteen fat quarters. Pretty fun right? Also, I simplified the piecing so there are less seams and added some cheery sashing (the aqua dot from Hello Darling). 
Do I dare say I like it even more than the original 24" Swoon? No? Okay, I like them both exactly the same. ;-)
This was pieced by my angel friend Riann after I caught a cold/flu that nearly took me out (bless you Riann!) and quilted by Abby in an orange peel design. I couldn't have done it without these two. Thank you both!
And a few things just in case you were wondering:
*I used Moda Bella bleached white 97 for Swoon Sixteen, Lollies and Piccadilly Circus, but used the cream dot from Hello Darling for the background on Vintage Tulips.
*All the new patterns are in full glossy color and are available as paper patterns or instant PDF downloads in my shop, Thimble Blossoms.
*Hello Darling will be available in quilt shops this August, so let your favorite shops know now if you want some.
*I need a nap. ;-)
So what do you think? Do you have a favorite?
Also, If you made it through all this, give yourself a pat on the back! Thanks for stopping by to see what I'm up to, and for cheering me on. You are the best!
Camille